What makes North Devon a great place for dogs?
North Devon is a great place for dogs because of the wide range of accommodation options available and the fact that many of these properties welcome dogs. There are plenty of dog-friendly attractions such as gardens, family attractions and stately homes – everything from theme parks to gardens welcomes man's best friend!
North Devon also offers miles of footpaths for walking with your dog along beaches or through scenic landscapes – perfect for those who love to explore nature together! The area also has access points to many beaches where you can let your dog run free without a leash while swimming or chasing balls in the sea. Finally, plenty of local attractions like theme parks welcome canines so you can have fun together without leaving them behind during your trip!
Our favourite dog-friendly activities

in North Devon
Walk from Woolacombe to Potter's Hill
The walk from Woolacombe to Potter's Hill is a beautiful circular walk just 3 miles long and hikers can enjoy breathtaking views over Baggy Point and Hartland.
This walk is popular among dog owners due to its scenic beauty and easy difficulty level; it's an opportunity for pets to explore nature while on their leash or off-leash if desired. Additionally, there are plenty of cafes near both ends of this path where dog owners can warm up after their walk with hot drinks for themselves and cold water for their furry friends!
Visit Saunton Sands Beach
Saunton Sands Beach is a great dog friendly activity in North Devon because of its long stretch of golden sand and enormous waves. This beach is popular with surfers and dog walkers because of its unique dune system and three-mile-long expanse of sand. It was also featured in Robbie Williams' music video, Angels, making it even more attractive to visitors.
Saunton Sands Beach allows dogs 365 days a year access within certain limits (on leads past the beach hut area). Visitors can park at Saunton Sands Car Park or nearby roadside parking areas for free before walking down to the beachside, where benches are available for rest breaks with your pet companion.
Exmoor is located in North Devon and boasts over 700 miles of footpaths and bridleways. It is also home to several tumbling waterfalls and rivers, providing a scenic backdrop for your dog-friendly activities.
Some of the best dog friendly activities in Exmoor include hiking along the trails, exploring ancient monuments like stone circles and burial mounds, taking in the views from high points such as Dunkery Beacon or Hay Tor, visiting wildlife sanctuaries like Lynmouth Bird Observatory or Exmoor Pony Centre, spotting wildlife such as wild ponies, birds of prey, red deer and ancient horned sheep.
Baggy Point is a great dog friendly activity in North Devon due to its scenic beauty, wildlife, and accessibility. It offers stunning views across Woolacombe beach and beyond, as well as opportunities for birdwatching, rock climbing and coasteering. Dogs are welcome at both of the nearby cafes.
The path is wide and stable making it accessible to most dog owners.
Take a road trip to Clovelly
Taking a road trip to Clovelly is an appealing option for dog lovers as the village is completely pedestrianised and dogs are welcome everywhere. Visitors can explore the quaint cottages, cobbled streets, craft workshops, donkey stables and historic attractions such as Clovelly Court Gardens which are all included in the entry price. Furthermore, there is a pebbly dog-friendly beach with a waterfall that tumbles down the 400ft cliff which makes it an ideal destination for pups who need some exercise or just want to enjoy some fresh air.
Visiting a castle can be an exciting experience for a dog. It is surrounded by history, grand architecture and beautiful scenery. Your dog can explore all the nooks and crannies of the castle, and relax on the soft beds or couches in one of the many rooms. Dogs can also take advantage of all the amenities provided such as toys, treats and water bowls. There are plenty of birds chirping or waves crashing against rocks adds to its serene atmosphere making it an ideal place to rest after playing all day long with other dogs.
Visit the Valley of Rocks
The Valley of Rocks is a geological Site of Special Scientific Interest found near Lynton. It's best known for its dramatic cliffs and rock formations that date back millions of years. The site contains fossils from ancient creatures such as dinosaurs and marine life, which you can observe along the cliff edge or inside some caves.
The Valley of Rocks is a popular dog friendly activity in North Devon because of its breathtaking views and interesting geological features. The landscape offers plenty of space for dogs to explore while keeping them on their leash, making it an ideal spot for those who love hiking with their canine companions. Furthermore, Mother Meldrum's café provides an opportunity for visitors to enjoy an English tea after their hike – perfect for those who want to take in some local culture while enjoying nature's beauty!
Hartland Abbey & Gardens is a great dog friendly activity because it offers visitors the chance to explore the beautiful 18th-century walled and woodland gardens, walks, and parkland. There is an attractive valley leading down to a rugged beach and cottage at Blackpool Mill where several film and TV dramas have been shot. Dogs are welcome at Hartland Abbey but must be kept on leads which ensures their safety while they explore this historic site.
Becky Falls Ancient Woodland Park
Becky Falls Ancient Woodland Park is a great dog friendly activity because it offers beautiful views of the waterfall and surrounding woodlands. It also has an animal quiz trail, guinea pigs and Shetland ponies to interact with, as well as a café and picnic areas.
The park is close to Newton Abbot and visitors can spend the entire day there admiring Becky Falls as well as exploring other areas such as the animal show area or taking one of the many walks around the area. Dogs are welcome but must be kept on leads at all times.
Trapped Escape Rooms Okehampton
The Trapped Escape Rooms at Okehampton feature three rooms to choose from, each with its own unique theme and storyline. The rooms challenge players' problem-solving skills as they try to find clues, solve puzzles and escape within 60 minutes. Well-behaved dogs are welcome on the premises.
Can you escape within 60 minutes?
Hound Tor Deserted Medieval Village
Hound Tor Deserted Medieval Village is great because it offers both fun and educational experiences for pet owners and their dogs. They packed the village with humour, featuring puns, hilarious hijinks, and movable scenery such as a fire-breathing dragon. It also has winter evening illuminations, seasonal events and a Where's Wally trail which adds extra excitement.
Hound Tor Deserted Medieval Village is in the heart of the renowned Dartmoor National Park which offers plenty of natural spaces to explore like Haytor Vale and Golitha Falls.
Lynton & Lynmouth Cliff Railway
The Lynton and Lynmouth Cliff Railway offers spectacular views over Lynmouth Bay and a dog-friendly cafe at the top station. It's also unique in that it's powered entirely by water, allowing visitors to experience Victorian-era technology first-hand.
The railway connects the towns of Lynton and Lynmouth, rising 500ft up a steep slope along its 1km track. Visitors can plan their visit for Tuesdays or Wednesdays during the summer when there are special events such as market days at the top station.
The Milky Way Adventure Park is a great dog friendly activity in North Devon because it offers plenty of things to see and do both indoors and out. It has an indoor assault course big enough for adults, a dedicated play area for babies and young children, an exciting rollercoaster called the Cosmic Typhoon, as well as lots of rides and attractions to keep the kids entertained. Additionally, it allows well-behaved dogs on leads so owners can enjoy their time together without worrying about their pet running off or causing any trouble.
There are also some lovely walks through acres of countryside on each side of the park for owners who want a bit more exercise with their dog before heading home from their visit.
Dog friendly North Devon

beaches
The dog-friendly beaches in North Devon are spread along the region's coastline, from Woolacombe Beach to Westward Ho! You can find Saunton Sands and other beaches between these two points.
These beaches offer an ideal environment for dogs to run around and explore, with fine sand and plenty of space for running, swimming and playing. There are also plenty of opportunities for walks along the coast or through the nearby countryside, providing a fun day out for both you and your canine companion.
Here are just a few that are well worth a visit:
Woolacombe Beach
Saunton Sands
Westward Ho!
Hele Bay
Lynmouth Beach
Putsborough Sand
Mouthmill Beach
Broadsands Beach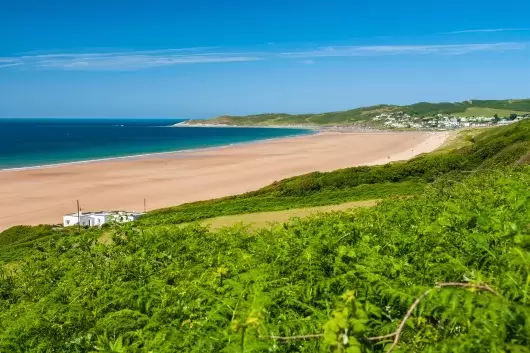 So, if you're looking for the perfect place to take your furry friend for a hike, bike or other fun activity, North Devon is your ideal location, and Sandy Cove Hotel is the ideal place to stay. We have many dog friendly rooms. Dogs are allowed in our standard sea view and non sea view rooms and all the hotel grounds on a lead. Book your stay online or give us a call on 01271 882243.