Relax in our amazing

swimming pool
Time to relax. Enter a world of heavenly relaxation, our amazing swimming pool is a highlight of Sandy Cove Hotel. 
Its bi-fold doors open up so you can enjoy the sun and listen to the sounds of the sea while unwinding in the warm pool. The stunning leisure area with sauna, steam room and heated relaxation loungers is the perfect haven to relax; feel yourself letting go of that stress.
After a day at the beach, a long walk or maybe on your arrival, take a dip in the pool, luxuriate in the heat of the sauna; designed to help relax the muscles and ease any aches or pains.
Don't worry, we know everyone is different so you'll find plenty of seating on the poolside where you can simply chill out and read a book.
If you want to relax then that's easy!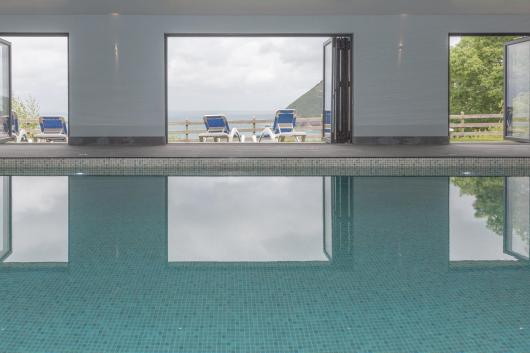 Chill on our

outdoor terrace
Or cosy up in our beautiful indoor spaces.
In the relaxed luxury and understated elegance of the hotel you'll find a relaxing an inviting atmosphere to add those little moments to your holiday.
No matter where you are, whether the lounge, restaurant or one of our terraced areas, you'll find stunning sea views.
Make use of the free WiFi throughout the hotel. Enjoy a frothy cappuccino in the contemporary bar or lounge areas or sip champagne on the deck or terrace as you watch the sun set.