Your wedding day is one of the most important days of your life. You want everything to be perfect and that includes the venue. 
If you're planning an outdoor wedding, you're in luck. There are endless possibilities when it comes to decorating your space. To help get you started, we're sharing our top outdoor wedding decoration ideas that are sure to make your special day unforgettable.
Why outdoor wedding decoration are

important
One of the main benefits of outdoor wedding decoration is the opportunity it provides to create something truly unique.
With the breeze blowing gently through the trees, birds singing in the background, and the gorgeous outdoor backdrop, outdoor weddings are perfect for creating a romantic atmosphere that will make your special day even more special. Not only will it create magical memories for you and your partner, but it also gives your guests an unforgettable experience.
Furthermore, outdoor wedding decorations provide a beautiful photographic backdrop for your wedding photos. With the right outdoor wedding decorations, you can create a romantic and charming atmosphere that will make your wedding photos look simply stunning.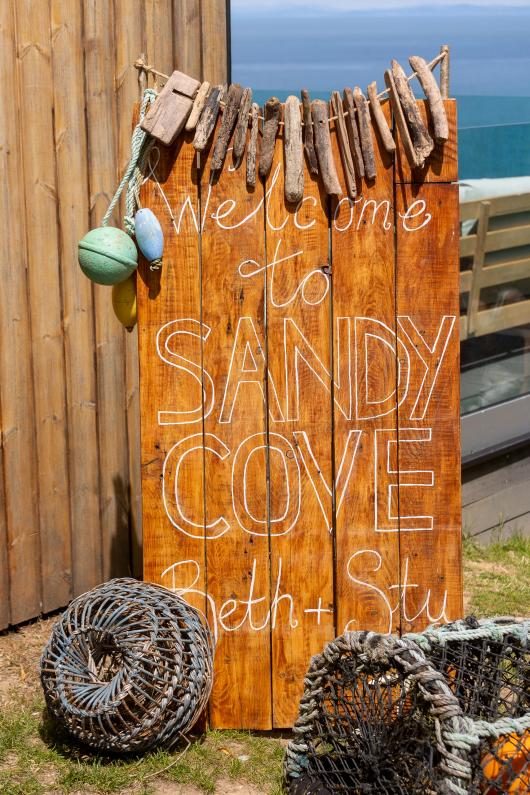 Outdoor wedding decoration

ideas
For a chic wedding backdrop, consider draping your space with gauzy fabric in light shades of ivory or blush for a whimsical and elegant vibe.
If you're looking for a trendy grand-millennial vibe, textured sheer fabric with a small print of rose petals or a barely-there floral or chinoiserie pattern will give your event space or outdoor wedding tent a complete makeover without going overboard on decorations.
A flower wall is a popular wedding decoration idea that can be used to create a stunning outdoor backdrop for the reception. It consists of a wall filled with colourful blooms, with the colours chosen to match the wedding's colour palette.
The blooms can be further enhanced with Edison bulbs or string lights, creating a picture-perfect photo backdrop. Flower walls bring elegance to the event and can be used as part of the overall wedding decor. They create a romantic atmosphere and draw the eye, making them the perfect addition to any outdoor wedding. Flower walls are a great way to add a touch of romance, beauty, and colour to any special day.
Romantic quote signs are a great way to add an elegant and chic touch to an outdoor wedding. These signs can be hand-written onto chalkboards or wooden signs or printed and framed to be hung as a backdrop.
They can feature a variety of quotes and sayings about love, making them a perfect choice for outdoor weddings. Not only do they provide a romantic sentiment, but they also add a unique, personalised touch to the special day.
Lighting can also help to enhance the atmosphere, making it even more special and memorable. By incorporating oversized light-up letters, the wedding can be further personalised with initials or a romantic phrase.
A fabric canopy is a beautiful outdoor wedding decoration idea because it creates a fairytale atmosphere that is both romantic and intimate. The fabric drapes in various shades of ivory, and blush can soften the canopy's look and add a whimsical, elegant vibe.
The canopy can be transformed into a sophisticated and luxurious atmosphere by weaving in greenery and suspending chandeliers from the ceiling. String lights can create a canopy of stars, making the outdoor wedding an utterly magical experience.
Not only does a fabric canopy provide practical cover from rain and sun, but it also adds a unique aesthetic to any outdoor setting.
Potted plants suitable for outdoor weddings include herbs, such as rosemary, baby fruit-bearing trees, and other shrubberies from a local garden store.
These plants can easily be clustered for visual impact and provide an earthy, natural scent. Rattan chairs, wicker chandeliers, and other rustic elements can be added for a Mediterranean-inspired theme.
Additionally, apples can be used as centrepieces or nameplates to add a unique touch to your outdoor celebration.
Relaxed outdoor seating is a popular choice for wedding decoration as it provides comfort and style. It involves furnishing an outdoor setting with furniture, decorations, and other elements that create an atmosphere of relaxation, which is ideal for socialising with guests and enjoying the festivities.
This type of seating can vary from classic deck chairs to quirky sofas to even ceremony benches. Dividers, picnic tables, antique tables, and dance floors can also be included to further customise the space and make it more inviting. In addition, adding airy wicker accents, gilded tones, and lush greenery will help create an elegant summer vibe.
With the right outdoor seating and decorations, a relaxing and enjoyable atmosphere can be created to truly make a wedding memorable and unique.
Outdoor swings are a beautiful and romantic wedding decoration idea. They provide a striking visual for outdoor wedding photos and a break from standing for the happy couple.
These swings can be customised with floral garlands or greenery, making them a unique and memorable addition to any outdoor wedding.
Furthermore, ladders can be decorated with flowers and lights and used as a lovely display. All in all, outdoor swings are an enchanting wedding decoration that will create a truly unforgettable experience.
String lighting is a popular choice for outdoor weddings due to the whimsical, romantic atmosphere it creates.
It is a form of lighting that consists of long strings of lights, usually with small bulbs, which are hung up in various ways. This type of lighting is excellent for creating a starry night effect, adding sparkle to reception tables, and creating a canopy of light.
String lighting can also be used to create a "raining" effect, where the lights are hung from trees and cast a glow on the ground below. It adds a soft and beautiful atmosphere to an outdoor wedding and is an easy and affordable way to decorate an outdoor space.
Decorating an outdoor space with natural elements can bring a unique and beautiful atmosphere to your wedding day. Here are some extra tips to help you create stunning outdoor wedding decor.
Take advantage of the natural surroundings. Incorporate elements of the landscape into your decor, such as bare wood and vases filled with lush eucalyptus.
Include organic elements from nature. Use jars filled with sand and shells in centrepieces or beach-rock name place settings for a nautical-style wedding.
Utilise nature-inspired textures. Cover your reception tables with natural fabrics like cotton, wool, linen, bamboo, hemp, jute, or silk.
Embrace the trees. Hang glass bottles with florals, crafty frames and books from the branches for a magical effect.
Line the aisle. Lay driftwood or tree trunks along the aisle and top them off with fresh flowers for a rustic feel.
Incorporate herbs and flowers. Place herbs and hedgerow flowers on antique vases for a classic look.
Hang flower hoops. Use flower hoops to frame the top table or decorate your ceremony venue.
Use milk pails. Fill pails with flowers and showcase them at the end of the aisle and then move them to the reception area.
Create organic buttonholes. Ask your florist to include plants, wildflowers or other natural elements from the local area.
Create a lush backdrop. Decorate your ceremony backdrop with boughs of fresh green leaves and white buds.
Incorporate lavender. Line the aisle with lavender to create a French-inspired look.
Use materials you have. Drape materials like silk, patchwork or cloth around trees, chairs and tables to create a rustic atmosphere.
So, those are our top ideas for your perfect outdoor wedding decoration! Do you have a favourite?
Our venue is a fantastic choice for an outdoor wedding, with panoramic views of the sea, Atlantic coastline and rolling hills of Exmoor. Visit our weddings page or download a brochure to find out more.