There's something special about North Devon – maybe it's the wild moors, the dramatic coastline or the quaint villages. Whatever it is, we can't get enough of it.
And what better way to explore this beautiful part of the world than on foot? From leisurely coastal strolls to challenging hikes across open moorland, there's a walk for everyone in North Devon.
Our 10 favourite

North Devon walks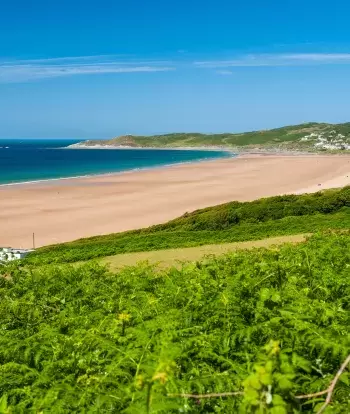 Putsborough to Woolacombe
The Putsborough to Woolacombe walk is a spectacular coastal walk offering panoramic views and plenty of activities along the way. The highlights of the walk include:
Views across the sea, beach, dunes and surf out to Lundy and Morte Point
A section of the Southwest Coastal Path
Explore the small rock pools
Take in the dramatic views of Woolacombe Beach and Morte Point Headland
Spot Grey Seals, Porpoises and bird watching
Visit the cafes at either end of the walk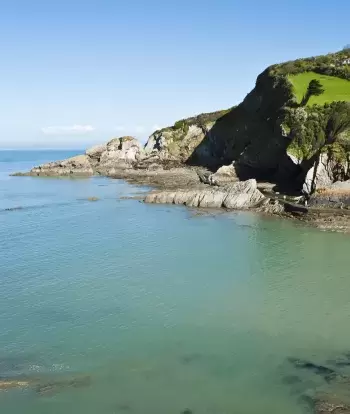 Heddon Valley is an excellent walk for all ages and abilities. The area is a designated Site of Special Scientific Interest, making it a haven for wildlife, such as rare butterflies, birds, and otters. The Woodland Path winds its way down the valley towards the sea, offering spectacular views along the way.
At the end of the walk, visitors can explore the cove at Heddon's Mouth, which is filled with super-sized pebbles and a natural freshwater river flowing into the sea.
Dogs are allowed all year with no restrictions, and after the walk, visitors can stop off at the Hunters Inn for a refreshment or a bite to eat. Not only does this stunning building have a ton of history and charm, but it also has beautiful gardens and a natural playground for children to enjoy.
Heddon Valley is a great walk for anyone looking for a peaceful escape, stunning views, and a chance to observe some rare wildlife.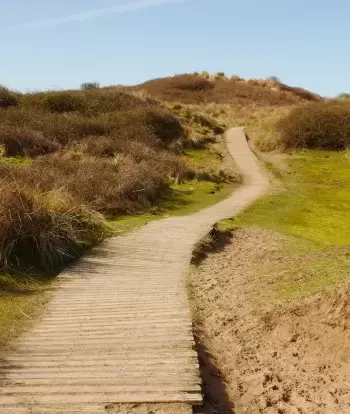 Crown Point & Braunton Burrows
Crow Point and Braunton Burrows offer an idyllic escape from the hustle and bustle of everyday life, taking you to a place of nostalgia and beauty.
This walk passes through some of the UK's most stunning coastal scenery, with a wealth of natural wildlife and historic sites. The Burrows are one of the largest sand-dune systems in the UK, part of the UNESCO-designated North Devon Biosphere Reserve and a National Nature Reserve.
As you make your way through Braunton Marshes, you can take in the unique biodiversity, pastoral landscape and one of the few remaining medieval strip-farming fields in England.
On the other side of the estuary lies the stunning scenery of Instow and Appledore before the waters reach Saunton Sands and its five miles of sandy beaches. Here, you can take in the sights, sounds and smells of the sea while exploring Crow Point, complete with its lighthouse and breathtaking views.
This walk is ideal for all ages and abilities, granting an opportunity to escape and fully immerse yourself in nature. With two car parks and no set paths or routes, you are free to explore and let your imagination run wild. There are plenty of cafes and restaurants in Braunton to feed hungry bellies and quench thirsty mouths.
In short, Crow Point and Braunton Burrows are both stunning locations to have a digital detox and appreciate the beauty of North Devon, with plenty of sights and sounds to explore in a peaceful and relaxed atmosphere.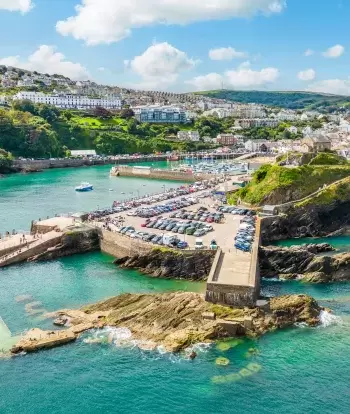 The Ilfracombe coastline is a beautiful walk due to its incredible variety of scenery, from the quaint seaside village of Lee to the picturesque fuchsia-lined hedges and cottage gardens. It has a stunning stretch of coastal path with breathtaking views of heathlands, distant lighthouses, and expanses of farmland.
Dogs can also explore freely and enjoy the beauty of the landscape, as well as roam the smuggler's path carved through rocks to the picturesque Sandy Cove Bay. There are also the remains of Iron Age ramparts and modern-day attractions like the impressive statue of Verity and the magnificent views from Beacon Point.
With all these varied elements in one walk, it's no wonder the Ilfracombe coastline is renowned for its beauty and perfect for a relaxing stroll.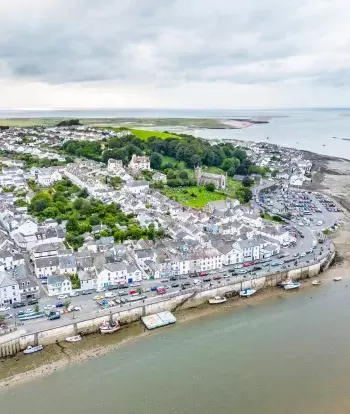 The Northam Burrows walk is a must-see for those who enjoy the outdoors. Starting in Appledore, the 6-mile round trip takes you through Northam, around the Burrows and along the coast back to Appledore, with plenty to see and do.
Along the way, you can spot plenty of wildlife, with birds, wild horses and sheep grazing freely, and stunning views of Instow, Westward Ho!, and Appledore from Crow Point.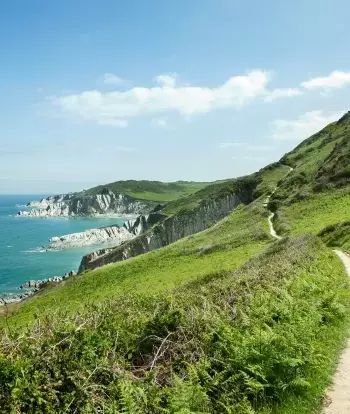 Lee Bay & Bull Point Lighthouse
Lee Bay and Bull Point Lighthouse are great spots for walking in North Devon, with various scenic sights and interesting stops.
Starting at the Mortehoe Heritage Centre, explore the village, passing the pub and cemetery before heading out to Morte Point. Here, you can spot seals hunting for fish at high tide or relaxing on the rocks at low tide.
Afterwards, take the steep descent of Rockham Bay, a dog-friendly beach perfect for a paddle and cool-off. Continue to Bull Point Lighthouse, where you can take a track inland or stick to the sea route and return the way you came.
Along this route, you can pass prehistoric standing stones, ancient woodland, and coastal farmland, offering a unique experience.
If you're looking for something a bit more challenging, you can ascend Ilfracombe's Hillsborough Nature Reserve, known as the 'Sleeping Elephant'. This walk comes with far-reaching views of Lundy Island and the South Wales coast, as well as Iron Age ramparts and various habitats which attract a range of wildlife, such as peregrines and seabirds.
Finally, you can explore the other side of the Taw Estuary, passing bobbing boats and wildflowers and taking in the sights of Appledore and Westward Ho!
On the way back, remember to take in the wreck of an old trawler, and the remains of a whale washed up on Croyde Beach.
North Devon is truly an incredible place to explore, with Lee Bay and Bull Point Lighthouse providing a great walking route for all visitors.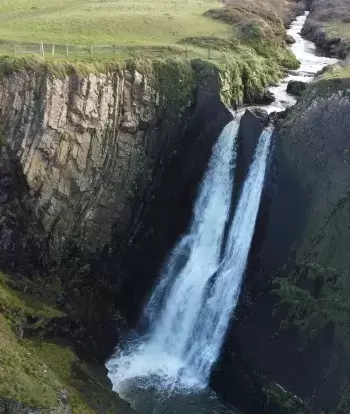 Hartland to Speke's Mill Mouth Waterfall
This is a stunning walk in North Devon for many reasons. For starters, the route is 5.4 miles (8.7 km) long, making it a great day out. The walk also offers plenty of stunning scenery and features various landscapes and topography.
At the start of the walk, you'll pass through fields before quickly arriving at an inviting forest. As you continue on, you'll find Mill Leet, which follows the coastline, eventually arriving at Speke's Mill Mouth Waterfall, the main attraction of the walk.
The nearby Speke's Mill Beach is also a lovely spot to take a break. On the return journey, you'll take in the North Devon coastline, passing through a series of coves before ending up at Black Pool Mill Beach. As well as the scenery, the route also passes near Hartland Abbey, a historical site worth exploring.
Finally, the route has a moderate difficulty level, making it accessible for most walkers.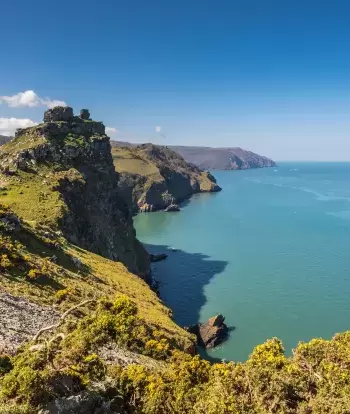 Valley of Rocks & Lynton Outer Loop
The Valley of Rocks and Lynton Outer Loop is an undeniably fantastic walk that takes you along the rugged North Devon coastline, with breathtaking views of the sea and the Exmoor countryside.
Beginning from the cobbled town of Lynton, this 8.6 mile (13.8km) loop has something for everyone, whether that's scaling the enormous boulders of the Valley of Rocks itself or taking a leisurely stroll along the South West Coast Path. The Valley of Rocks is a great spot for taking pictures, and with the chance to spot wild goats in the area, we highly recommend a picnic lunch!
The walk can be done in around 3-4 hours and is suitable for people of all fitness levels, regardless of whether they're experienced walkers or not. Although the trail can be steep and dangerous in places due to its cliff-edge location, it is well-maintained with tarred pathways and well-marked directions, making it relatively easy to follow.
Overall, the Valley of Rocks and Lynton Outer Loop is the perfect way to experience the stunning North Devon coast, with plenty of wildlife, breathtaking views, and opportunities for picnics and photos.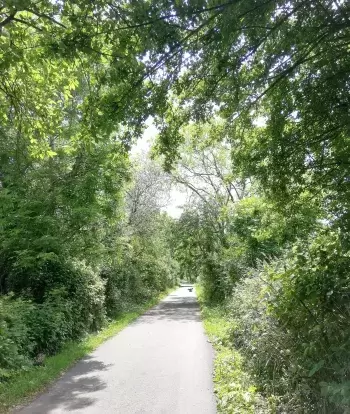 This Croyde to Saunton circular walk is an excellent walk in North Devon because it offers a variety of scenic routes. From the rugged coastline of Croyde Bay to the hilltops and grassy pathways over Saunton Sands, this route is an enjoyable and varied experience.
Additionally, the walk is suitable for cyclists and walkers, with bike hire available from several Barnstaple, Torrington and Instow locations.
The route starts by following the Tarka Trail, a 180-mile route nicknamed after Tarka, the otter, and ends in the same spot, making it a perfect figure of 8 loop. Along the walk, you can spot wildlife, such as herons, and indulge in some delicious ice cream from Croyde Parlour. Or, if you fancy something more substantial, you can always head to the Beachside Grill in Saunton.
With a distance of 4.2 miles (6.9km) and a duration of 1-2 hours, this moderate-difficulty walk is definitely worth a visit.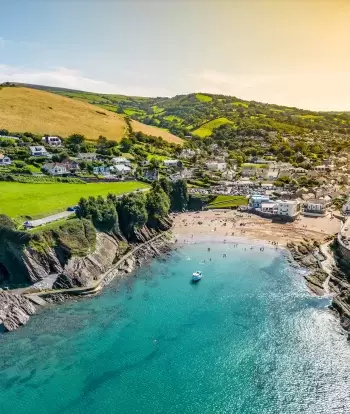 Combe Martin Circular (Little & Great Hangman)
Combe Martin is an excellent walk for nature lovers and adventurers alike. The route starts in Kiln car park, above Combe Martin bay, and takes you through a steep incline along a sheltered woodland path.
As you reach the hilltop, you'll be rewarded with spectacular views of a hidden beach and the two peaks of Little Hangman and Great Hangman. As you ascend, you'll be able to admire the North Devon coast and its moorland dotted with grazing sheep.
The descent towards Great Hangman offers stunning views of the sea, and the route continues through fields and woodland before leading back to the picturesque village of Combe Martin.
Along the way, you'll pass the prehistoric Hill Fort of Hillsborough, the bird's eye view of Ilfracombe, and the Iron Age ramparts around the hill's summit. The route also takes you through the estuary of the Taw-Torridge, past Europe's largest covered shipyard, and to Rockham Bay, where you can spot seals hunting for fish. With its stunning views and plenty of wildlife, Combe Martin is the perfect place for a scenic walk.
Whether you're a rambler, a stroller or a dog walker, North Devon has something for everyone. And what better place to stay than the Sandy Cove Hotel, where you can enjoy all the best North Devon has to offer right on your doorstep?